Everybody is good! Since its establishment, the student union has been committed to organizing student activities to communicate students' voices. Now it has entered the second year of its establishment.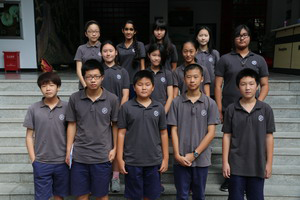 From left to right :
Front Row : Tracy Chen (11G), Gurleen Kaur (11G), SarahZhang (11G), Queeny Shen (9G)
Second Row : Cherry Hu (7G), Rachel Jiang (80), Amber Liu (8G), Sarah Joshi (100)
Lower Row : Peter Kang (90), Peter Li (10G), Alex Li (7S), Leo Lei (9S), Thomas Gao (8S)
Student union members speak to them :
7G: Cherry Hu:" I am an outgoing girl who has a strong sense of responsibility; at the same time, I am also an optimistic person. No matter what kind of difficulty I shall meet, I will face it with a smile."
7S: Alex Li :"I am Alex Li from 7S. I was born in 2003.09.15 and I live in Shenzhen."
8G: Amber Liu:" Victory won't come to me unless I go to it."
80: Rachel Jiang:"When you are at the end of your rope, tie a knot and hang on."
8S: Thomas Gao: "I failed over and over again in my life, and that's why I succeed."
9G: Queeny Shen: ""Maturity doesn't mean age. It means sensitivity, manners and how you react."
90: Peter Kang: "The only thing to fear is our fear. We hesitate to do something because we fear to fail, not because we will fail."
9S: Leo Lei: "Unity is strength"
10G: Peter Li: ""Action may not always bring happiness; but there is no happiness without action."
100: Sarah Joshi: "The Student Council is a puzzle and every single student is a piece of puzzle; the mission of the student council is to complete this puzzle which is called GOS."
11G: Tracy Chen: "The Student Council is a bridge which connects students and the school. Together, we can make a better tomorrow. Don't regret the decision that has already been made but think about not letting yourself regretting the decision thatyou are GOING TO make."
Deputies :
7G: Tommy Kang
7S: China Huang
8G: Lilianna Wu
80: Tomo Masuda
8S: Selina Cai
9G: Ravleen Kaur
90: Khushi Patil
9S: Maggie
10G: Candy Deng
10O: Leo Wei
Now, what's leading the students' union Head Girl Candy DengNow, what's leading the students' union Head Girl CandyDengNow, what's leading the students' union Head Girl Candy DengNow, what's leading the students' union Head Girl Candy Deng.
Complaint Box :
In front of room 402 on the fourth floor, if you have any Suggestions or complaints about the school, you can put it here.
Online opinion box :
Online interactive platform, ordinary students and members of the student union are free to discuss any ideas or opinions related to the school.
Homework club :
Older students can help younger ones; If there is a group project, it can be produced together here. Opportunity to review with classmates this club will be held once a week.
Extracurricular activity :
Middle school students can now organize extra-curricular classes during lunch breaks. For example, football club basketball club.
author : Tracy Chen *(11G)
copyreader : Candy Deng (Head Girl)