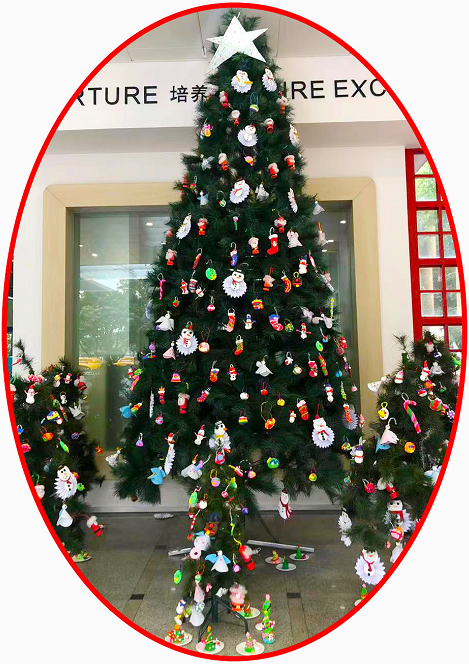 To all our friends and families at Green Oasis School, we would like to wish you a safe and happy holiday.
This is a very special time of the year. It is a chance to reflect on the year past and make plans for a bright future. The message of togetherness, peace and joy that are an important part of the festivities is especially important during this very difficult year.
On behalf of all the staff I would like to thank our GOS community for the support you have given us and the trust you have shown in us to not only educate your children but also to ensure their school experience is a happy and safe one. The beautiful trees you see in the picture above have been decorated by your children with baubles and figures made during art classes. It is wonderful to way to celebrate student work and to show that beauty comes from the heart. The creativity and imagination shines through and is a wonderful way of celebrate the season.
This idea of paring back and being together in a community spirited way has continued with the GOS Christmas Fayre. Instead of children buying trinkets that would ultimately end in the rubbish, they raised money through playing good old fashioned games. They worked together to create the games and enjoyed the company of their peers while raising money for those less fortunate than themselves. We are very proud of the children and their efforts. Well done.
As 2020 winds down and hopefully 2021 brings a bright new 'normal' back to our lives, it is our hope that  we have all learnt to be kinder and more understanding  about how difficult this year has been. I believe it is summed up in this quote:
"Christmas is a piece of one's home that one carries in one's heart."—Freya Stark
This is particularly true for our staff members who will be spending their holiday away from family and friends. We are very grateful for their commitment and dedication not only to GOS but to our community of students and their families. Thank you to all of you.
So as we begin our holidays and spend time away from Green Oasis, we would like to wish you all a very merry festive season, and Joyous and Happy New Year. For those travelling keep safe and to those spending time in Shenzhen with family and friends, take care. We look forward to seeing you all in 2021, rested and ready for a bright and happy new year.
Helen Swan
Principal